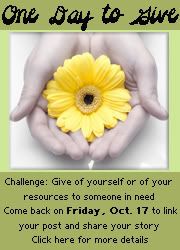 Kristen at
We are THAT Family
has a great idea. It is so easy to get caught up in our everyday routine - kids, baths, laundry, cleaning, dishes, homework, husbands - so let's take one day and
give
back
.
It does not matter if it is big or small. Maybe it's just a meal for the single mom down the street. Maybe you want to
sell your Coach purse and donate it to charity
. Whatever it is, it will make someone's day a little brighter.
I will be telling you all what our family did on Friday, October 17. I'm thinking hard on what we could do.
You can read more of Kristen's story, along with more details,
here
.
So, do you have one day?