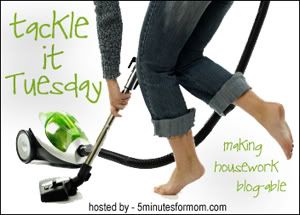 I have always wanted to participate in Tackle It Tuesday but always forget about it until Tuesday morning. Since I am not a SAHM, it pretty much means I am too late. But, this past Sunday, I tackled my car so I am posting about that.
The weather was great on Sunday so I thought it would be a perfect day to clean my car.
My car is where I live. Not really, but I might as well live there. It is always dirty so like my older sister said, "When I have the motivation to clean it, I better. It does not come around very often."
Before:
The front seat...not too bad...
The backseat...I think it balances out the front seat very well...
The trunk...
Even though it needs a shampoo, I have a clean car!!
(Sorry for the low quality pictures...my camera is already packed.)